Meet the Team
FOUNDERS & MENTORS
I have been a full-time doula for over nine years. Early in my career, I was fortunate enough to have some unofficial mentorship, and yet I found myself thirsty for more intimate experience alongside a seasoned professional. As I grew in the work, the turnover and burnout cycle in the doula realm became increasingly apparent. New doulas would come with energy and vigor, and leave within two to three years--either drained and disenchanted, or confused and without clients.


As a doula, my client relationships are paramount, yet I also track and process the interplay of the systems-level influences. This combination of in-the-trenches work and systems-level analysis combine with my desire to make doula work a sustainable, accessible field and a medium for transformation. Transformation for those seeking to work as a doula, for those seeking to work with a doula, and for those systems that interface with doulas. As we say at Metta, "As above, so below."


I have been a doula for 14 years and have practiced through many seasons in my life. Now, as a mother, a radical doula and a mentor, I can reflect back on which access points have been available or unavailable to me at various times, and why. I believe that I have an important perspective on the 'doula machine' based on the fact that I have come of age inside of that machine, experiencing the challenges and the joys of the work, and the ways that I was supported and not supported by the broader community. I feel that I have "cracked the nut" of how to make a living doing the work I love, and I would like to share that with my newer colleagues, in the feminist spirit of making change and improving access for both clients and practitioners.




Together, Gracie and I have been paying close attention to the national landscape and how doula work is changing. Metta and our apprenticeship program is a product of our desire to contribute meaningfully to the future of doulawork.
Powered by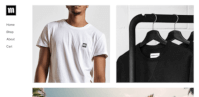 Create your own unique website with customizable templates.