METTA APPRENTICESHIP IS A TIERED PROGRAM THAT EDUCATES YOU IN THE REALMS OF CLIENT WORK, BUSINESS GROWTH, THE DOULA LANDSCAPE, AND REPRODUCTIVE HEALTH CARE SYSTEMS. IT BUILDS OFF OF YOUR INITIAL DOULA TRAINING AND INCLUDES ADVANCED DOULA TRAINING AND SKILL-BUILDING. IT IS THE MOST IN-DEPTH TRAINING OPTION AVAILABLE, AND IS DESIGNED TO RESULT IN ONGOING SPONSORSHIP TO FURTHER YOUR DOULA BUSINESS. THE METTA PROGRAM INCLUDES PRIVATE CLIENT WORK IN A VARIETY OF SETTINGS, AND DOULA WORK WITHIN THE MEDICAL AND SOCIAL WORK SYSTEMS.
The Program
Metta's apprenticeship offers you two options of support as you invest in your future doula self: an smaller exploration of doula work and short-term guidance, or an extensive longer-term relationship with your Mentors and the Metta community. No matter which option you intend to pursue, the first step is the Introductory Apprenticeship. From here comes hope and possibility that you will continue on through the Full Scope Program, become Metta Certified, and move into an ongoing, sponsored relationship with Metta.
Introductory Apprenticeship
The Introductory Apprenticeship is designed to give you a boost as you explore doula work and get your sea legs. It is a shorter program that is well-suited to folks who are unsure if birth work is for them. This includes:
6 Births alongside Mentors, both observing and participating in client and birth work.
6 Months of Education Meetings with the full Metta Community of doulas, including Advanced Doula Education Modules.
Birth processing and client skill-building.
Full Scope Apprenticeship
The Full Scope Program has two Tiers to meet the unique needs of doulas as they grow. It is structured to allow you to develop in your skills, confidence, and independence--with support and guidance appropriate to your developmental stage. It includes the above, and more:
A total of approximately 30 Births over one to two years: the first half alongside Mentors (Tier 1), the second half as Primary Doula with Mentor support, guidance, and involvement (Tier 2).
Pacing through the Program to match your availability and readiness.
Income-earning as you move into a Primary Doula Role in Tier 2.
Monthly Education Meetings and Advanced Doula Education Modules for the duration of your Apprenticeship (12-24 months).
Business Development guidance and support.
TIER 1 :: Honing the Basics & Solidifying the Foundation. Attending births alongside your Mentors.
TIER 2 :: Service and Sustainability and Stepping Forward. Attending births as Primary Doula, with your Mentors involved and available.
OUTCOMES:
Experience and knowledge in creating rich client relationships.
A robust, growing doula practice, and a sense of who you are as a doula.
The foundation of a sustainable practice, including referral and contractor relationships with Metta.
Building collaborative relationships with perinatal care providers.
Understanding your place in the doula landscape and the ways in which you can be an agent of change.
Integration of social justice inside and outside of your practice.
Recognition of how systems interplay with the personal nature of this work.
Powered by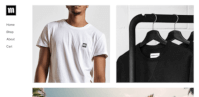 Create your own unique website with customizable templates.